Building Automation System, Building Automation Service & Building Automation Solutions

Bolingbrook, IL, Chicago, IL, Oak Brook, IL, Tinley Park, IL, Plainfield, IL & Naperville, IL
Optimize Your Building's Energy, Comfort & Savings through Building Automation

Integrated building automation regulates building operations using computer based technology, compiling data to promote cost savings, energy efficiency, comfort, and control.
Simple improvements to the management of HVAC and lighting systems typically delivers between five and thirty percent savings on energy and utility costs.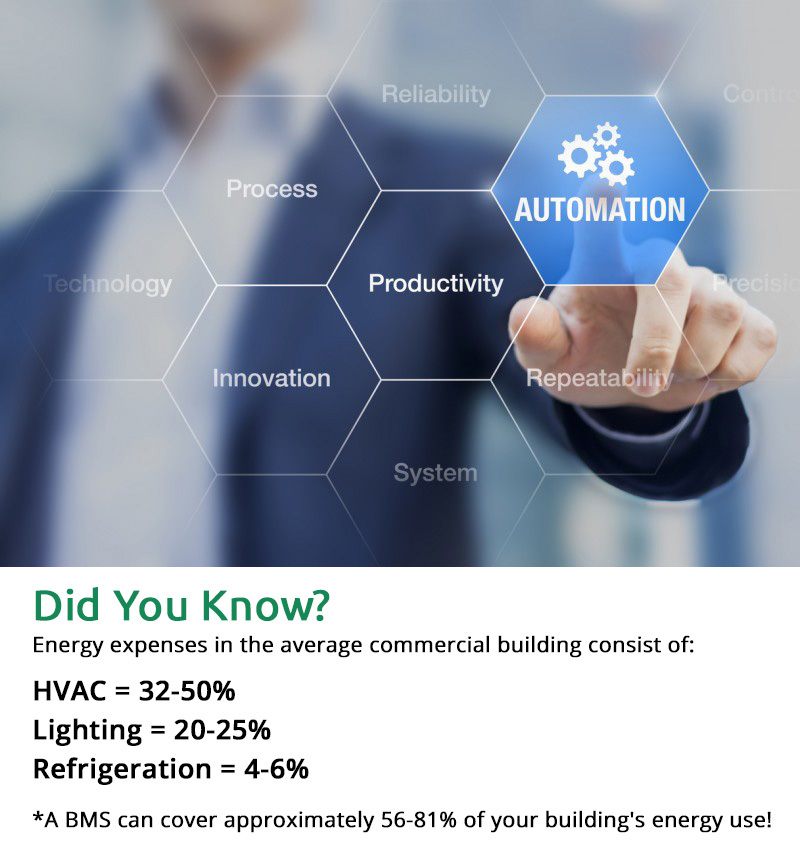 Wireless monitoring of building zones allows instant adjustments, peak performance, and minimized waste.  Utilizing resources more efficiently not only trims energy consumption, but also reduces impact on the environment.
Building Automation in Bolingbrook, IL | Building Automation Installation Plainfield, IL | Integrated Building Automation Downers Grove, IL
Contact the experienced professionals from Total Automation Concepts, Inc. (TAC), and we'll tailor a solution to maximize the potential of your facility in Chicagoland and Northwest Indiana.
Some of the many benefits of Building Automation Systems include:
Energy savings between five and thirty percent
Reduced environmental impact
Improved building security
Greater convenience and ease of operation
Minimized downtime
Less maintenance requirements
Save money with our efficient, easy to use building automation solutions!
From greater productivity to improving your bottom line, Total Automation Concepts, Inc. designs a Building Automation System according to the specific demands and goals of your facility.
We introduce sustainable improvement through cutting-edge technology, bringing you solutions that simplify operation and pay for themselves.
Established in 1992, Total Automation Concepts, Inc. continues to build on a reputation of exceptional customer service across Chicagoland and Northwest Indiana. Contact us at 708-597-3143.
Building Automation Service

∴

Building Automation System

∴

Building Automation Installation

∴

Building Automation Solutions

∴

Integrated Building Automation ∴ Oak Brook, IL ∴ Tinley Park, IL ∴ Chicago, IL

Total Automation Concepts, Inc.

February 22, 2017

2023/05/29